Did you know that currently Instagram has engagement levels of around 1.6 percent as compared to 0.09 percent on Facebook?
There's no doubt that Instagram has an incredible amount of reach due to its focus on imagery. Therefore, it is vital to leverage this channel of social media, by sharing images that best reflect your products and brand.
Although you can take these images yourself, to effectively take advantage of Instagram for your brand, you need to hire a professional photographer to help you produce engaging Instagram content.
For example, below is an example of a professionally taken photo for a new Starbucks beverage as compared to an amateur one taken on the right: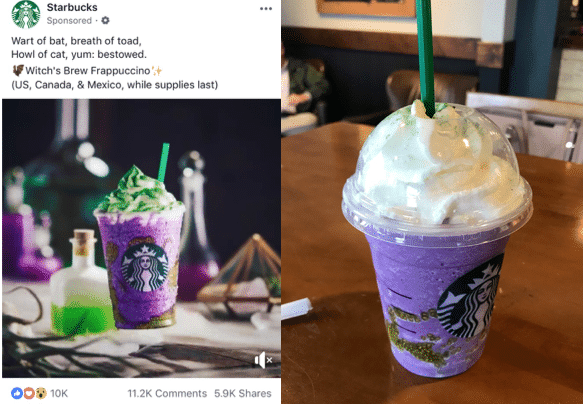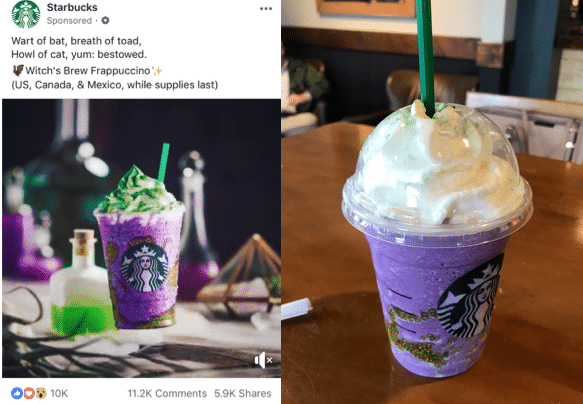 Get the idea?
In this post, we'll discuss the reasons why you need to hire a professional Instagram photographer in Toronto:
Get outstanding photos of you or your brand
To have a greater number of followers on Instagram you need to have better and more enticing photos than your competition online. For example, if you're into the restaurant business you need mouth-watering images of the best food dishes you serve.
To achieve this, you cannot just point and click at a dish before it is served. A professional photographer knows exactly how to tilt the dish, spray some water, highlight the dish and even tweak the colour of the tomato to make it look redder before it is posted on Instagram. Yes, this will be an investment on your part, but will pay for itself when your images start attracting more customers, and converting to sales.
Get what you expect, and more
A professional photographer will take the time to understand what your desired expectations are. He or she will ask you a series of questions to understand what kind of images you want to best portray your brand image and yourself on Instagram. Each photo will be carefully shot with an artistic eye to deliver images that may quite possibly exceed your expectations.
Get the best photos at the best value
Professional photographers charge what they do because they know how to extract the most positive aspects of your brand and capture it in a picture.
It's important to realize that a professional photographer needs to plan in advance for the shoot, which could take a couple of days to a few weeks, depending on the complexity of the project. For the ideal shoot, the photographer has to make sure that the location has been scouted, the equipment has been tested and props have been arranged for as per need. All of this prep work is necessary to ensure that the photo shoot goes as planned and the outcome is as per client expectations.
After the shoot the photographer needs to edit and do professional retouching work to ensure the photos look flawless.
Therefore, you can be sure that when you hire a professional Instagram photographer in Toronto, there's a lot of behind the scenes work that goes into making sure each photo turns out amazing.
Ready to hire a professional Instagram photographer in Toronto? Give us a no-obligation call today, and we'll be happy to discuss your needs!